You know the basics of soloing over the blues. Now it's time to take your playing to the next level. The truth is, it's not all that complicated. A little bit of guidance goes a long way. If you're willing to put in the hard work, this course will get you there!
The Next Level Blues Course is designed to get you from good to great solos. We cover every nook and cranny of the blues, leaving you with the skills to get you to the next level.
-----------------------------------------
This course is not an overview of the blues. We dive deep as you come along with me through each lesson. Video tutorials provide you with no guesswork. Audio examples allow you to play along and make sure you can hear and understand the material. Backing tracks allow you to practice at all tempos. The worksheets are yours to keep at your side throughout your journey.
What you will learn:
The 'hidden' changes that make your solos more compelling and leave the audience on the edge of their seats wanting more.
The keys to adding to direction and harmonic interest in the blues. No more meandering through the changes. Play with purpose and intent!
Reharmonization techniques that add tension and release to your playing.
Extensive examples of all techniques, giving you a blueprint for success.
Get out of your comfort zone with new and challenging sounds. Take your concept to the next level.
What's Included With The Next Level Blues Course:
---
Nine in depth video lessons (over 2 hours of video!), taking you through the progression and harmony step by step. (Worksheets included for C, Bb, Eb, and bass clef instruments)
Blues Etudes putting the techniques into action.
Demonstration recordings allowing you to hear and play these sounds along with me.
Backing tracks at every tempo.
Bonus lessons include: seven Ear Training Etudes, Combining Scales and Arpeggios, and a Scale Segment Masterclass.
A community chat monitored personally by your instructor to answer any questions or difficulties you may be having with the material.
---
Course Curriculum
Introduction and Welcome!
Available in days
days after you enroll
Scale and Chord Review
Available in days
days after you enroll
Lesson 1: Using Tension in Measure 4
Available in days
days after you enroll
Course Outline:
Lesson 1: Adding Tension In Measure 4
Lesson 2: The #4 Diminished Chord
Lesson 3: The VI Chord
Lesson 4: Reharmonizing The ii V I
Lesson 5: More Reharmonizations
Lesson 6: Advanced Reharmonizations
Lesson 7: The I VI ii V I
Lesson 8: Tying It All Together: The Etudes
Lesson 9: But Wait, There's More: Opening Pandora's Box on the Blues
BONUS MATERIAL:
Ear Training Etudes
Combining Scales and Arpeggios
Scale Segment Masterclass
Frequently Asked Questions
Am I ready for this course?
Do you know the basics of the blues progression, understand the basic harmony, and can put together a decent solo? If you can, you're ready for this course and to take things to the next level.
Is this course designed for my instrument?
The Next Level Blues Course is designed for ALL instruments. These sounds are universal and anyone can benefit from the knowledge contained. Worksheets are also included for concert, Bb, Eb, and bass clef instruments.
How are the video lessons structured?
The video lessons in this course are designed for maximum benefit. We look at the worksheets together and talk about the concepts in detail. By the time we are done, you will fully understand how to use the worksheet to your advantage in your practice time.
I'm a more advanced jazz player, will this course benefit me?
Yes. This course is designed for the intermediate to advanced player. There is no limit to how far you can take this material. The possibilities are endless and in this course, we show you how to progress past the materials contained within.
Your Instructor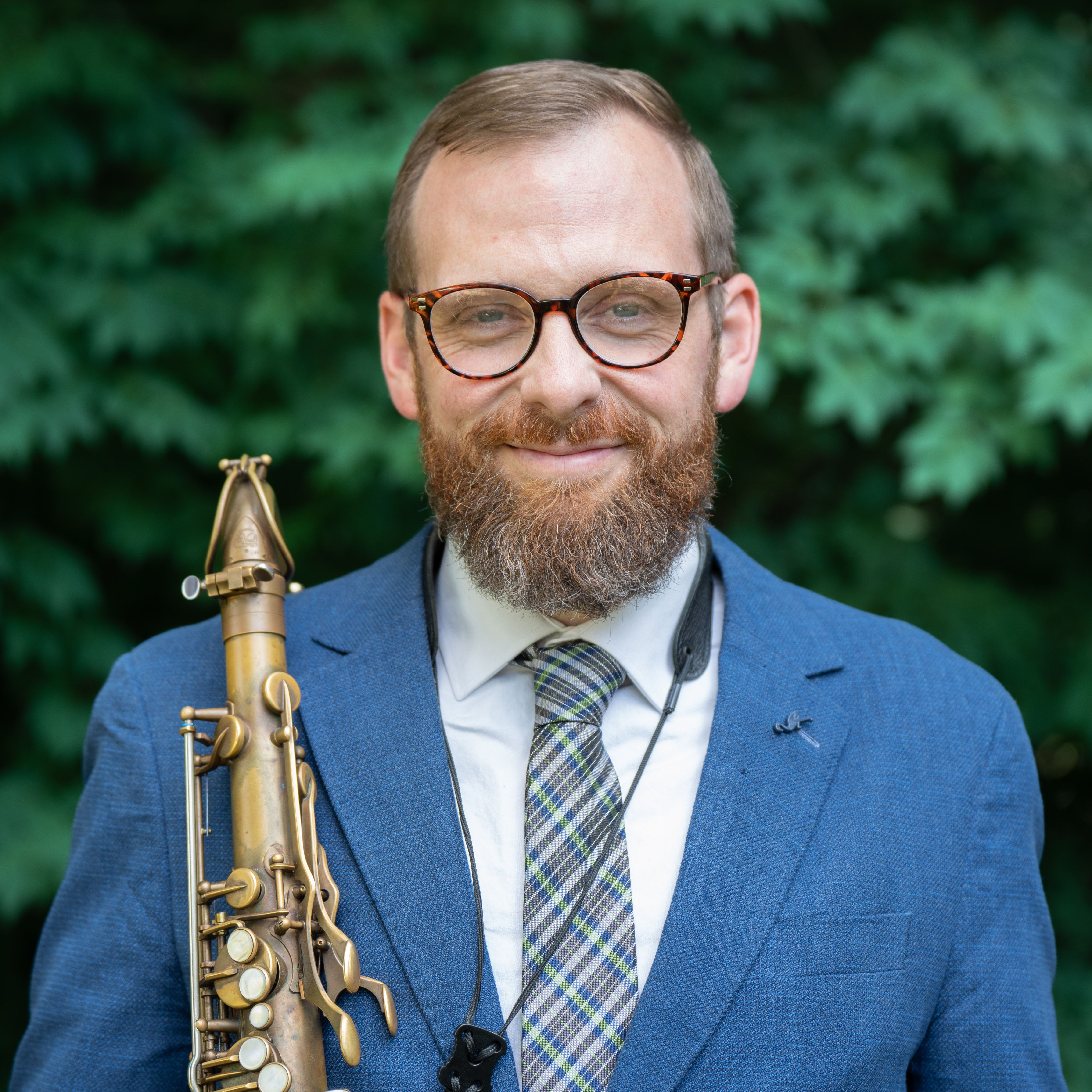 Nick Mainella is a jazz educator and saxophonist residing in the Portsmouth, NH area. He is the creator and host of the 10 Minute Jazz Lesson Podcast and YouTube Channel. He is also the director of jazz at Southern New Hampshire University.
Nick mentors serious jazz students from around the world in his exclusive program, The Jazz Education Intensive. A year long system that turns participants into capable, working professional musicians.
Nick's educational ideas and systems have been featured on outlets around the world including, Learn Jazz Standards, Musical U, The Growing Band Director Podcast, Contrabass Conversations, Best Saxophone Website Ever and more. Nick regularly travels the US presenting clinics and workshops to audiences of students and educators.
Nick is also a published author with Hal Leonard having authored a definitive saxophone text, Comprehensive Saxophone Warm-Ups.
Nick has had the pleasure of studying with some of the greatest teachers in the world including, Clark Terry, Billy Hart, James Moody, Trent Kynaston, Jared Sims, and Mike Tucker. Nick received his Bachelor of Saxophone Performance from the University of New Hampshire and his Master of Jazz Performance from Western Michigan University.
Nick also maintains an international touring schedule featuring ensembles such as the Nick Mainella Quartet, The Soggy Po Boys, and OURBIGBAND.